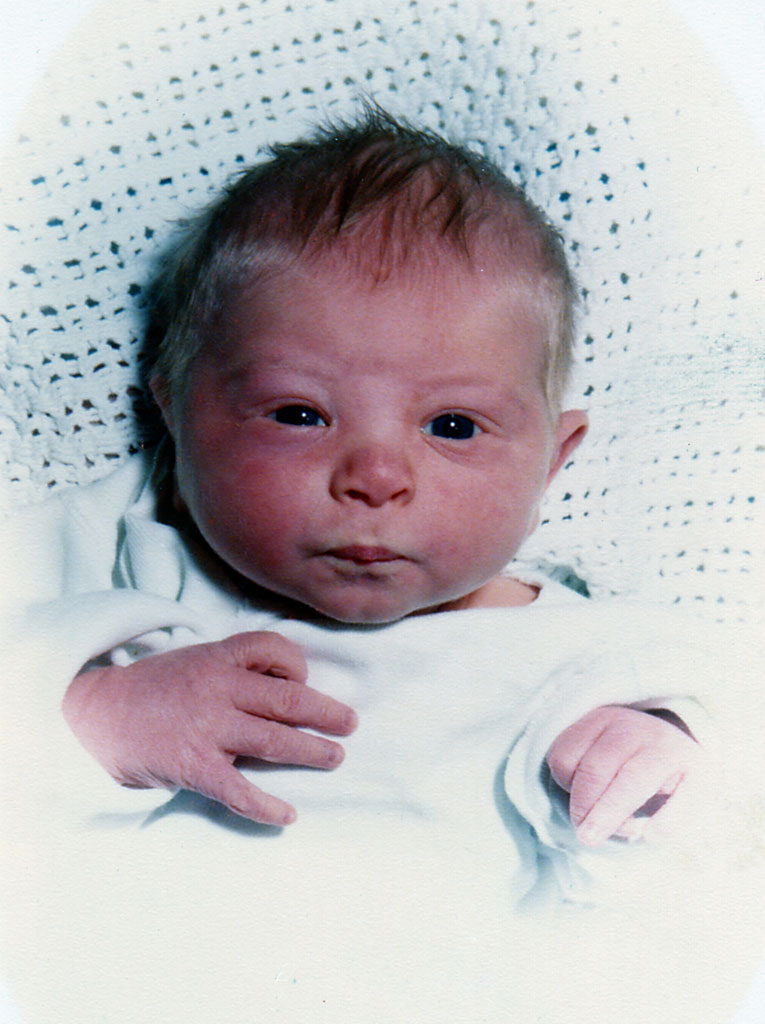 Jeremy Allan Cohran (1 day old)
I have a little story that goes along with the birth of each of my children. They're somewhat funny, a little whimsical, and I've always enjoyed telling the tales to new friends or even old acquaintances that I haven't seen in many, many years. I haven't told the stories in a very long time. Most of our current friends have heard them, and my kids know almost every detail from years of repetition. I do look forward to recounting the anecdotes to each of my children's children, but it will be a little while yet before they are old enough to understand the nuances of the events.
In any case, I was reminded today of the first tale--that of the birth of my son. His birth was the only one of my children that I missed (though there was at least one other close call). Today, by purest chance, I happened to be in Arizona, where he and his family currently reside. I was there on a short business trip and while I was there his own son was born and he was there to share the experience with his wife.
Kaden wasn't due until the 23rd of June, but as I see it, he knew how special it would be for him to come into the world while his "papa" was visiting and decided to make his debut early. Believe you me, he was far more considerate with his timing than was his daddy.
When my son, Jeremy, was born on December 23rd, 1979, I was far beneath the Atlantic Ocean aboard the USS Daniel Webster, SSBN 626 (Gold Crew). I was on my 3rd of my 15 strategic deterrent patrols and the Cold War was in full swing. My son was due to on December 17th and as luck would have it, after finishing our 30 day refit period and torpedo certifications out of Charleston, SC we were pleasantly surprised to learn that we were to get a 4 day port call in New London, Connecticut which was technically our home port. All that really meant was that New London was where we lived when we were "off-crew" and where our families lived all the time. We were a forward-deployed unit which meant we conducted most of our refits in Holy Loch, Scotland and returned there after our patrols. To have a chance to visit our families for even a few short days during a patrol cycle was a real treat. It was especially exciting for me because we were to be visiting there from the 15th to the 19th of December. If my son cooperated, I was most certainly going to get to see him born.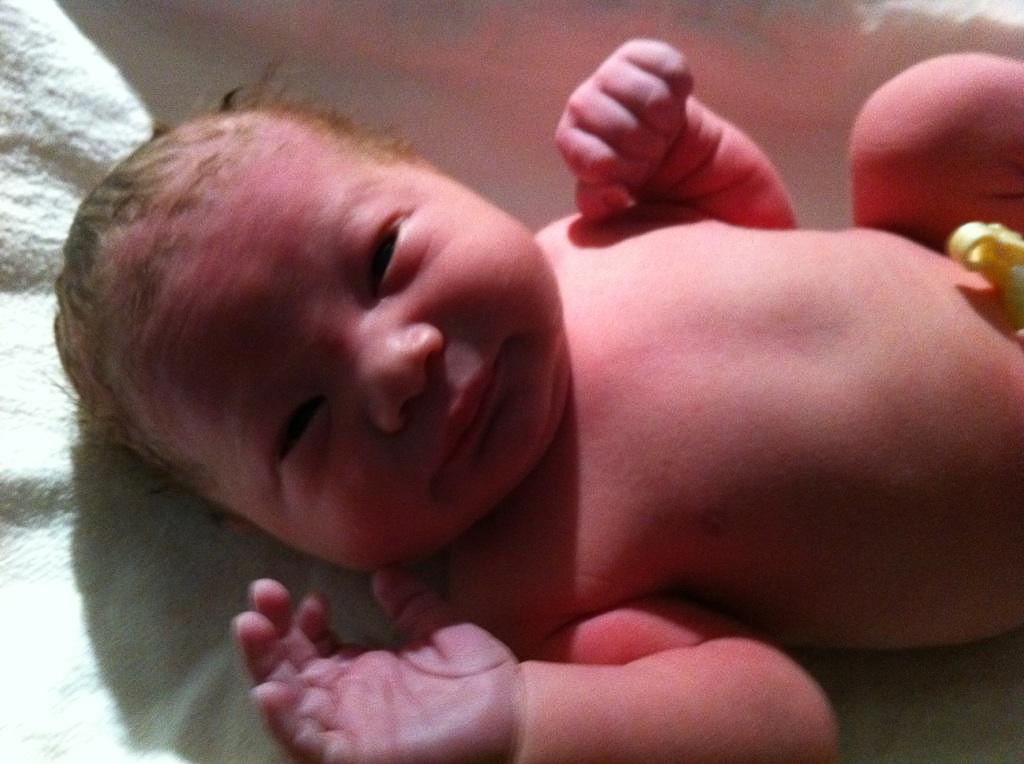 Kaden Murray Cohran - a few minutes old
I had taken all the lamaze classes with Wanda even though we both knew that, given the patrol schedule, I would not be with her for the birth. So when the port call was announced I was pretty damn pleased that I had taken the classes. After all, this was my chance!
Connecticut was freezing compared to the southern climes from which we recently navigated, but we were all very happy to see our families. I hadn't seen my wife in over a month and I can remember thinking "she wasn't that big when I left." I had duty on the 2nd day of our visit home, and we were allowed to have our families join us for dinner and movies if we weren't actually on watch. I made sure the hospital corpsman knew how very pregnant my wife was before she came down for the evening meal and I think he kept an extremely nervous eye on her during the entire time she was on board.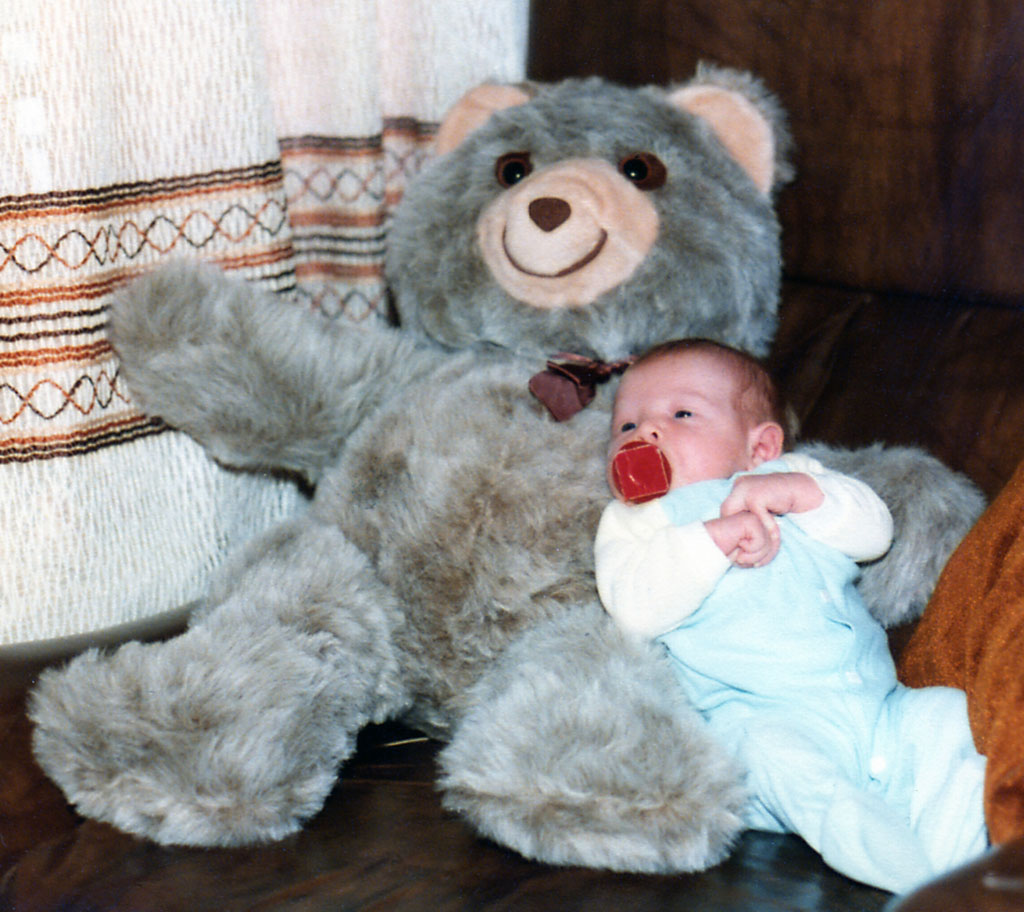 Jeremy and his bear
It was a bit amusing to watch her slowly descend the ladder down the hatch from the missile deck. There were three of us gathered below to catch her in the event she slipped and the corpsman wasn't the only nervous sailor during the meal and the subsequent movie. Unfortunately or fortunately, depending on your perspective, there was no excitement for us that evening. I felt sure that the next day, the due date, would actually yield me a child (we had no idea what sex our first born would be - ultrasounds were simply not that sophisticated back then). After all, fate had to have a reason for this unexplained and unusual port call. It simply had to be because I was meant to be there for the birth.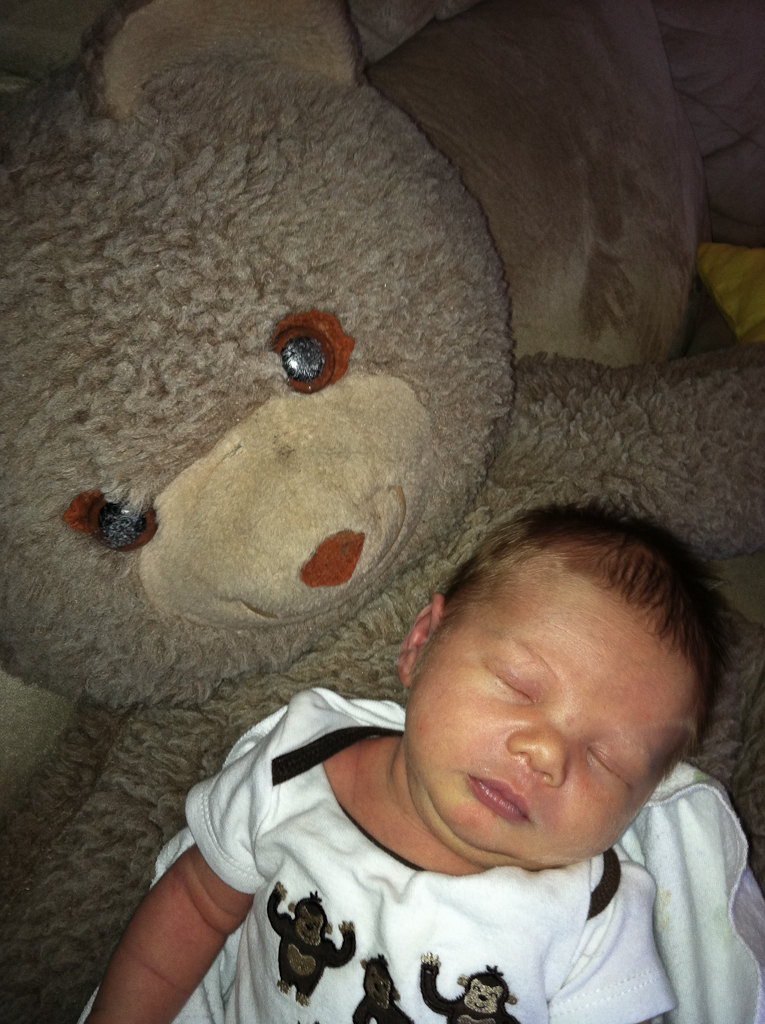 Kaden and the same 30 year old bear
The next two days came a went and before I knew it, All too soon, I was kissing my tearful wife goodbye and headed down the Thames into Long Island Sound and then out to the deep ocean. For the next few days I was on pins and needles waiting for the 18 word "babygram" that would tell me about the birth of my child. For three days we transited to our patrol area and on the fourth day we went patrol quiet and started our sixty day game of hide and seek with the Soviets.
On Christmas Eve I was standing watch in Auxiliary Machinery Room Two Upper Level. I had the swing watch that ran from 6 pm to midnight and I remember standing near our electronics workbench with my clipboard making a log entry when the I saw a man in red suit and hat come through the reactor tunnel watertight door. He had a white beard, a jolly smile and a large red bag. As he passed by me on the way to the main engine room, he wished me Merry Christmas and handed me a small candy cane.
Not long afterwards, he passed me again and with a jolly twinkle in eye he told me that the captain wanted to see me in his cabin after I got off watch. Of course, as soon as I was relieved and signed out of the log, I hustled up to the skipper's stateroom and knocked on the door. When I entered Santa was sitting there in his suit, sans beard and hat though, and he shook my hand, congratulated me and handed me a small slip of paper that said something along the lines of "Baby boy Cohran born on December 23rd. Mother and baby doing fine." And that, my friends is how Santa told me I was a daddy.
It was over six long weeks before I got to see my son. It's a good thing my grandson has a better sense of timing.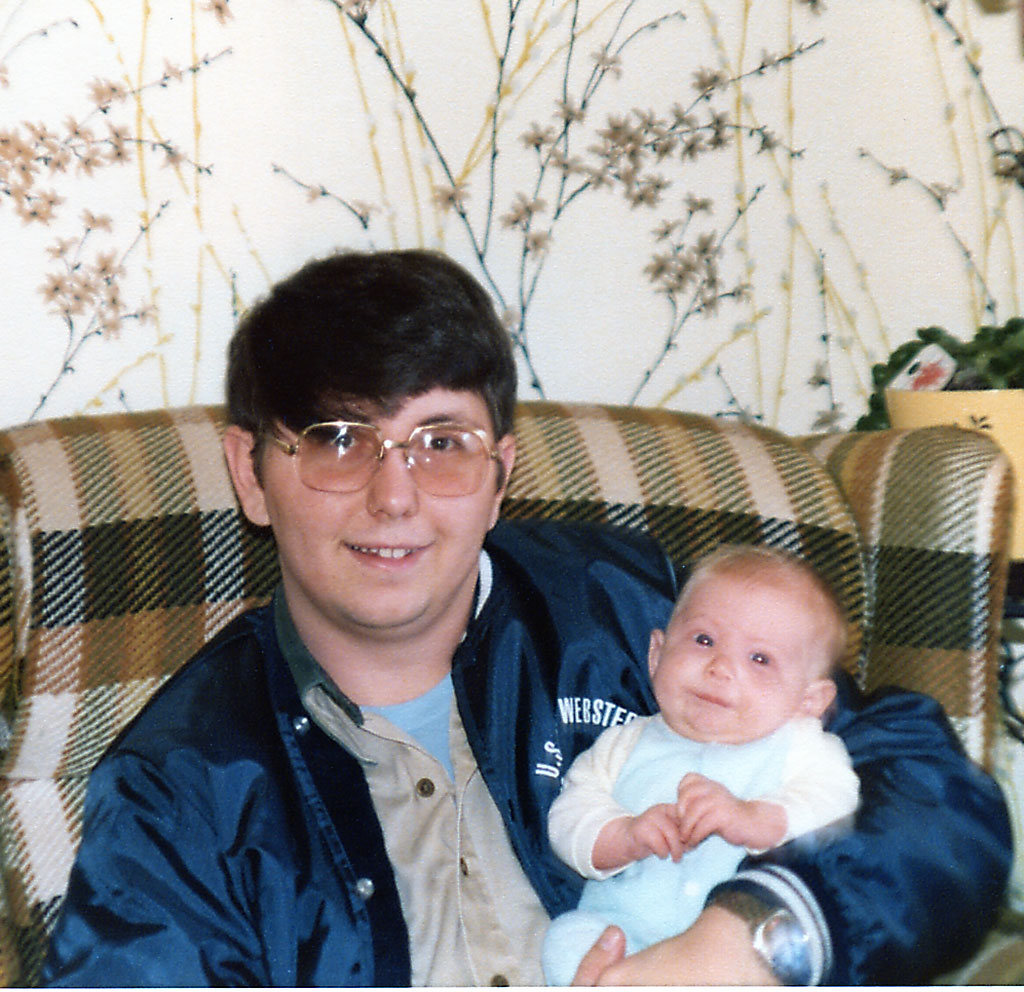 Father and Son 1980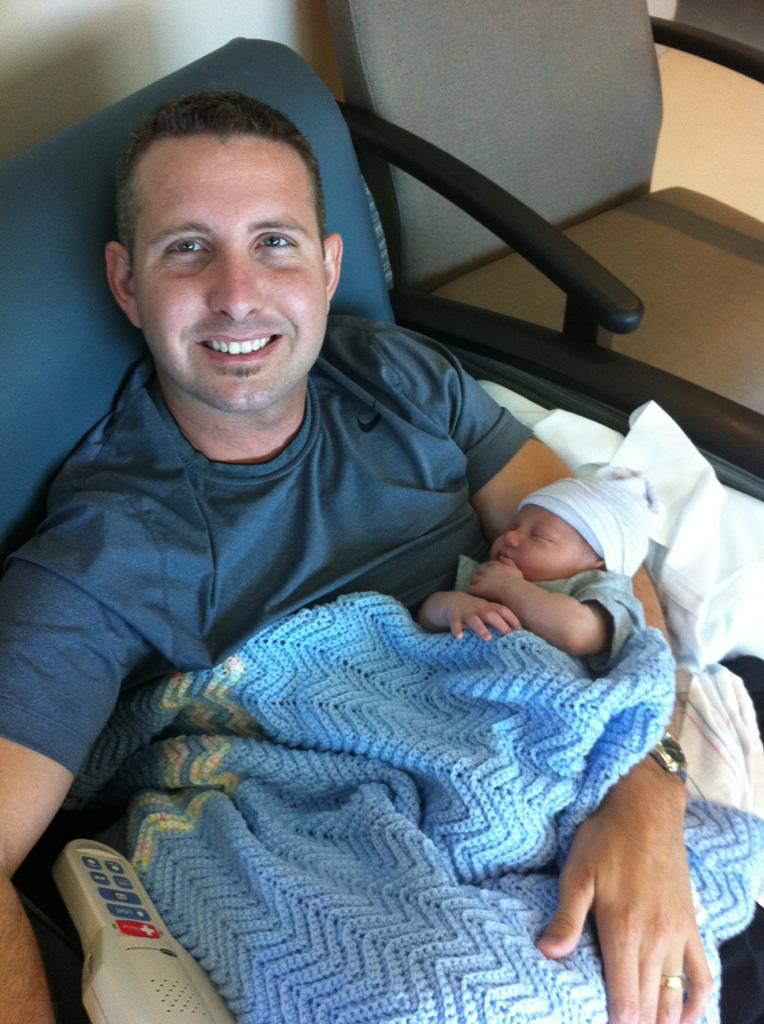 Father and Son 2011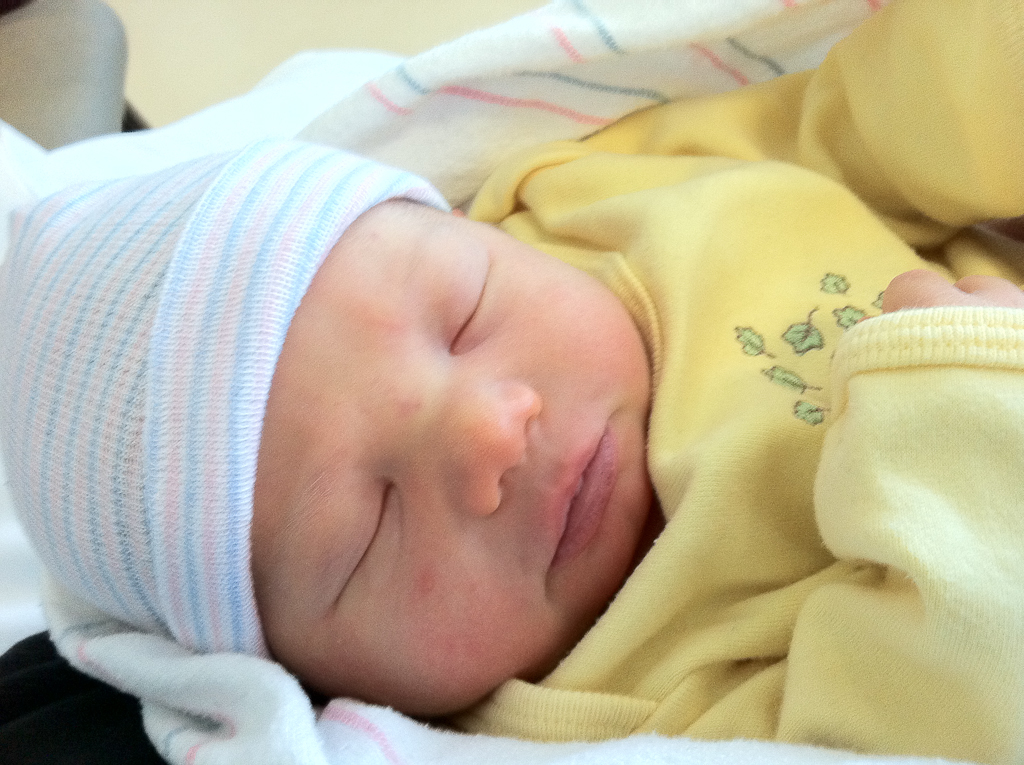 Kaden sleeping in his grandpapa's arms