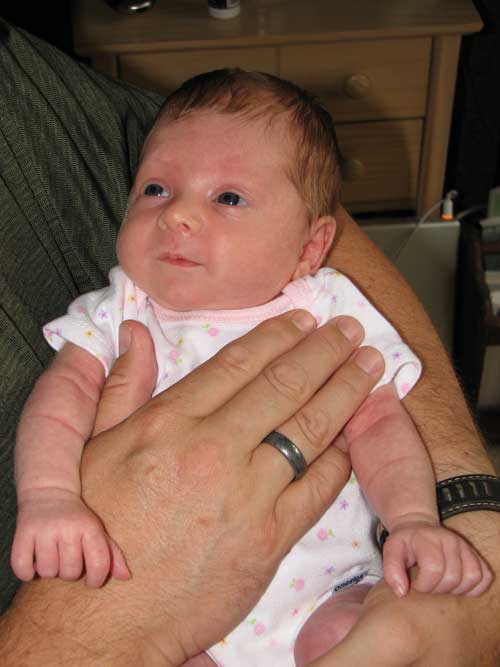 I got to finally meet my new granddaughter this past weekend. Jocelyn is a little cutie as you can see. She's quite small too, at only a little over 5 pounds in this image. My son and daughter-in-law live in California and weren't scheduled to visit until the end of September, but we couldn't take that, so I bought them tickets to come up for a visit as soon as the baby was okay to travel. It was money well spent.
Now that Makayla is two years old, I realize that I had forgotten how small newborns actually are. You can see how well Jocelyn fits into the crook of her Papa's arm. I had a lot of fun shooting with her and I consider her my latest female model.
Unfortunately, she left yesterday and it will be the end of September before I see her again. It will be interesting to see how much she grows in that short interval of time. Fortunately, we have a web cam set up on the PS3 so we can "see" her occasionally between visits.
We won't get too lonely for little babies, though. We have a grandson due in the next couple of weeks - and it could be any day now. His mom and dad still haven't named him though, so I'm calling him Rumplestiltskin (Rumpie for short) until they do in an effort to get them to make up their minds. It's not working, and I think the nickname, Rumpie, is going to stick.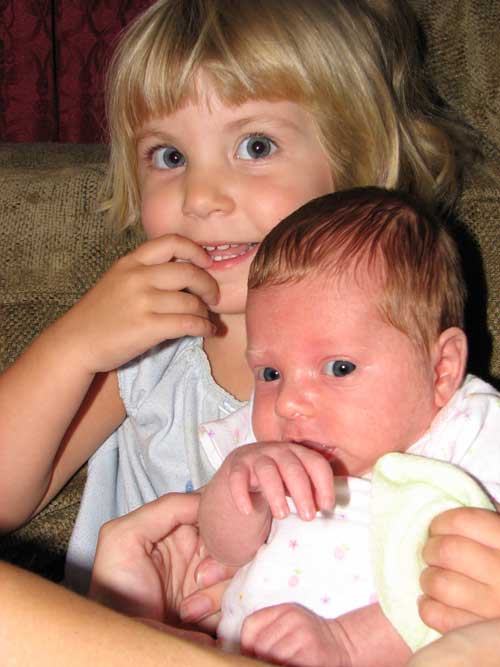 Makayla did quite well with her little cousin, though she did want her own attention as well. I think she'll be fine with her new little brother as well when he finally arrives, though it's quite possible there will be some jealousy at first.
My son is quite the doting father and both he and his wife are going through that giddiness of being first time parents. It certainly screws a bit with their perspective, but that's true of all new parents.
I do now realize how hard it must have been for the grandparents of my children. When our children were born, we lived more than 1200 miles away from them and during most of their lives, we never lived any closer than 500 miles away (Charleston, SC to Atlanta, GA). We tried to visit often, but it's not the same thing as having your grandchildren close by so you can see them often.
Of course, technology shrinks the world a bit for us - we can see her on the webcam, call just about anytime we want, and we can hope on a flight down to Oakland whenever it gets just too unbearable for us. Still, it would be nice if all our grandchildren were close by home.